Table Rock Lake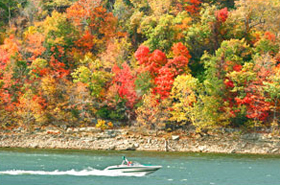 Table Rock Lake offers spectacular opportunities to enjoy its unique natural beauty. Table Rock Lake's water is a calm, beautiful blue, reflecting the bright, cloud-filled sky. The relaxing atmosphere makes the lake the perfect place to enjoy the outdoors, and it is a very popular destination for swimming, sailing, diving, and fishing.
Table Rock Lake is surrounded by gently-rolling, wooded hills. This gentle landscape is a great place to play golf or go hiking, camping, and birding. The sunsets – both from the water and the shore - are truly breathtaking, with brilliant shades of red, pink, yellow, and gold filling the sky and delighting visitors and residents.
There are many wonderful places to stay near Table Rock Lake, including bed-and-breakfasts, hotels, and resorts. Each Table Rock Lake bed-and-breakfast is as unique and interesting as its proprietor. The bed-and-breakfasts have beautiful, well-kept grounds, luxuriously-detailed rooms, and great views of the lake.
Delicious, homemade food is one of the attractions of Table Rock Lake bed-and-breakfasts. Fresh muffins, eggs, crepes, coffee, fruit, meats, and juice help guests begin a big day.